You've accepted the position, now what?
Congratulations on becoming part of the Blue Devil community! You should have received employment confirmation from Human Resources and have a start date. 
If you have any questions about whether you have been selected or general questions about employment, please contact Human Resources office at 913-288-7200.
Establishing a Password
New employees receive their KCKCC email address in an email from KCKCC Technical Support to their personal email account used to fill out the application for employment. In a separate email, the new employee will receive an initial password. This initial password will be used while signing in for the first time in Self Service to establish a permanent password. 
Upon signing in for the first time, you will be asked for more information to setup Self Service Password Reset using a mobile phone, personal email address, and/or security questions. 
Logging in With User ID 
A few services require users to login with their User ID. Employee User ID is their email without @kckcc.edu (example: dvader@kckcc.edu User ID = dvader). However, the password is the same.
User ID required Logins
myDotte [my.kckcc.edu]
Helpdesk [help.kckcc.edu]
Student WiFi
Papercut (printing) [papercut.kckcc.edu]
Multi-factor Authentication
Employees are required to use multi-factor authentication when signing in off campus. It is recommended to use the Microsoft Authenticator App for ease of access, but other options are available such as text or personal email. 
Call the Helpdesk if you are encountering login issues - 913-288-7479, option 3
Self Service is first used to setup your KCKCC login information. It can also be used to access your employee data while you work at KCKCC. You can find your tax documents, update personal information, make purchase requests, submit time entry, update direct deposit information, and more!
To access Self Service from the college website (kckcc.edu), Select Quick Links, then Self Service.
These functions are available in Self Service and will have tutorials soon!
Update Personal Information
ePurchasing
Time Entry
Tax Documents
Direct Deposit
KCKCC uses Microsoft Outlook for email. To access email, you must first establish a login for Self Service. The information used to login to Self Service is the same for accessing email. Your KCKCC Employee email address is sent to your personal email address used to apply for employment upon account creation. To access your email, from the KCKCC website (kckcc.edu), select Quick Links, then Email. 
If you have another account that uses Microsoft, and have setup your browser to remember your login information, it may default auto-fill that account. Use the option to sign in with another account to go back to enter your KCKCC email address. 
Find out how to add it to your mobile phone here: 
Wi-Fi Name: KCKCC-WiFi
You will use your KCKCC email address as the Identity when logging into Wi-Fi. The password will be your regular KCKCC password. 
If you are using an Android phone (not iPhone), here's some additional information you may need to provide to access Wi-Fi. This also applies to Chromebook devices.
     EAP Method: PEAP
     Phase 2 Auth: MSCHAPV2
     CA Certificate: use system certificates
     Online Certificate Status: do not validate
     Domain: kckcc.edu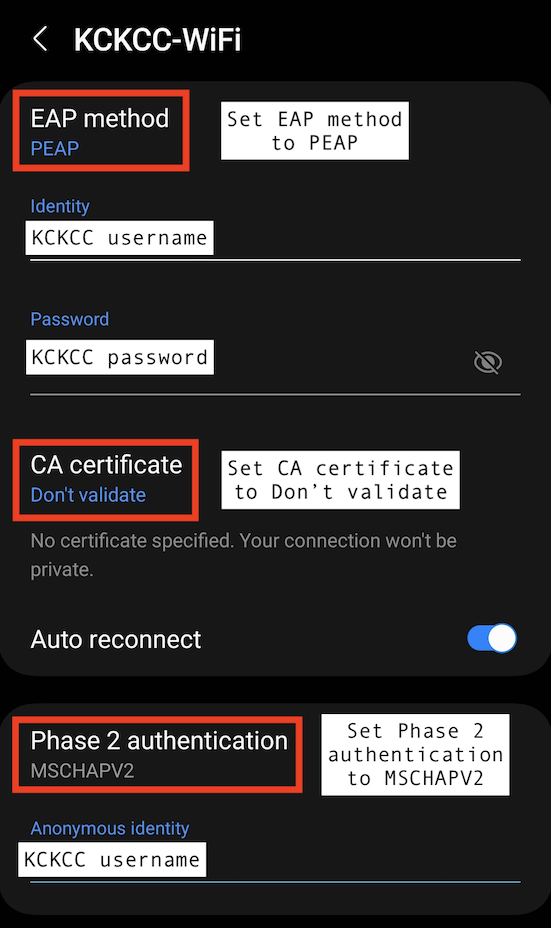 If you are using an iOS device, you must select Trust on the certificate that appears after logging in to complete the connection. This also applies to Mac and personally-owned Windows devices. 
Are you looking for someone in particular or just need to call a department office? Visit the website Directory to find what you are looking for!
To access the directory, from the KCKCC website (kckcc.edu), select Quick Links, then Directory. This directory is updated at least once a week and lists employees as well as office contact information. 
myDotte is KCKCC's SharePoint platform that is used to access forms and other department specific information. Login using your User ID and Self Service Password.
KCKCC has several locations available for students to attend classes! 
KCKCC | Campus Map is available to help navigate each college location. Use the grey Floor navigation to switch between floor levels. 
Main Campus
Address: 7250 State Ave, Kansas City, KS 66112
This building has room numbers that correspond with their floor-level and hallway location.
Rooms located on the top floor start in the 3000's. The second floor room numbers are in the 2000's. 1000's rooms are located on the bottom floor (Humanities hall only). 
Hallway room numbers are denoted with the 100's. For instance, all Humanities hallway rooms are either 1100's or 2100's.
Dr. Thomas R. Burke Technical Education Center
6565 State Ave
Kansas City, KS 66102
Pioneer Career Center
Address
1901 Spruce
Leavenworth, KS 66048
Visit KCKCC | Pioneer Career Center for specific information about offerings through the Leavenworth KS location. 
KCKCC employees and students have access to Office 365. The license includes the ability to Download Office applications to a personal device to use while working or studying at KCKCC. 
See Office 365 Support for more information
KCKCC uses Print Anywhere, which allows users to submit their print job to be retrieved from any Konica Minolta printer on campus. These printers are the ones you see in the hallways. 
Submit Print Job using Campus Computers
Login to a campus computer. PLEASE NOTE: Print jobs are connected by who is logged into the computer. 
From the document you wish to print, select Print, then select printer "KONICA_Universal_Mono" (for black and white printing). Then select OK or Print to send the job as you normally would.
Locate a printer near you to release the print job.
Submit Print Job using Laptop or Mobile Device
Go to papercut.kckcc.edu
Login using your KCKCC User ID and Self-Service Password
Select Web Print
Select Submit a Job
Choose printer KONICA_Universal_Mono (for black and white printing)
Click Print Options and Account Selection
Select Upload Documents
Choose Upload from computer or Drag files here
Click Upload and Complete
Proceed to How to Release a Print Job
How to Release a Print Job
Press Start to wake the machine.
Enter your ID number or KCKCC email and Password, then select Login.
Select Release.
Select Job from list to print or select all, then select Start .
A message will appear and the job will begin to print "Print job status: the select job(s) have been queued to print".
If you encounter any issues with printing on campus, call the helpdesk at 913-288-7479, option #3
OneDrive
As an employee of KCKCC, you have access to OneDrive which gives the ability to store, sync, and share files in the cloud. Sign into OneDrive using your KCKCC email and password.
 Accessing OneDrive on College Computers
If you are using a Windows computer on campus, you can directly access to your OneDrive by using File Explorer. Use the navigation pane to look for "OneDrive: Kansas City Kansas Community College". You can create folders here as well to keep your files organized.
Saving to OneDrive from College Computers
When saving the file, browse to OneDrive- Kansas City Kansas Community College, name the file, then select Save. This will save your file to OneDrive.
Accessing OneDrive Online
            Navigate to Office 365 online – https://portal.office.com
            Login using your KCKCC Email and Password.
Select the App launcher Icon
            Select OneDrive  (if not available, select All Apps -> to view all available Office 365 apps)
Department Network Drives
Additionally, some KCKCC Employees have access to a Department Network Drive which allows for departmental file sharing. Ask your supervisor if your team utilizes Department Network Drives.
Accessing Network Drives While on College Grounds
Open File Explorer on a college computer (using college network). Locate the department Network Drive under "This PC" (usually towards the bottom of the list). NOTE: Some departments do not require use of a Network Drive.
 If you have any questions or concerns about using OneDrive or accessing Network Drives, please contact the helpdesk at 913-288-7479, option #3.
To Begin Scanning 
Approach any Konica Minolta printer on campus. These printers are the ones you see in the hallways.
Press Start to wake the machine.
Enter your User ID or KCKCC email and Password, then select Login.
How to Scan Documents to a Thumb Drive
Place the document to be scanned on the glass (1 page) or in the automatic feeder on top
Insert thumb drive in slot on right side of printer
Select Scan/Fax
Select Save Document to an external device
if you would like to rename the file, touch black box that contains file name

clear file name box by pressing delete
type the file name
Press OK

Press Start
When screen is clear, remove documents
Remove thumb drive
How to Scan Documents to Email
Place the document to be scanned on the glass (1 page) or in the automatic feeder on top
Select Scan/Fax
Select Me to scan to your email

Alternatively, Select Direct Input > Email > then enter email

Review Settings - 1-sided or 2-sided
Press Start
KCKCC has a helpdesk ticketing system that can be used to submit tickets for a wide variety of issues ranging from technical to custodial requests. 
To access the helpdesk, navigate to https://kckcc.corrigo.com/. Use your User ID and KCKCC password to login. 
Tickets can be created on the helpdesk for College Police, Central Scheduling, Facility Services, Information Services (Technical Support), Institutional Effectiveness, Marketing, Media, Online Education (Blackboard), Print Shop, Vehicle Requests and Web Services. 
If there's any questions about where to submit your request, please call at 913-288-7479, option #3.
KCKCC uses Microsoft Teams to help employees stay in communication. Teams can be used to instant message, easily share group information, and create online meetings. 
If you have any questions about how to use Teams, contact Academic Support Coordinator Pat Kelly at 913-288-7547 or tkelly@kckcc.edu 
KCKCC provides employees with a desk phone and extension, which is requested via the helpdesk by a supervisor upon hire. 
Extensions
KCKCC has 4 digit extensions for employees. When dialing from a campus phone, you can just enter the 4 digit extension you are trying to reach. When dialing from outside, the number is preceded by 913-288-XXXX. For example, if your extension is 1234, outside callers would dial 913-288-1234 to reach you. 
Voicemail 
Upon receiving a phone extension, voicemail will need to be setup. An email confirmation is sent to your employee email with instructions how to setup your voicemail. Afterward, you will receive an email receipt of the voicemails left on your extension. 
If you experience any issues with the desktop phones or voicemail, contact the helpdesk at 913-288-7479, option #3 or Submit a Ticket to Information Services.