From President Greg Mosier, Ed.D.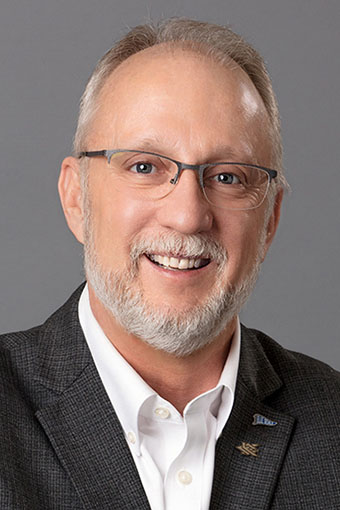 The College Strategic Planning Committee and I are pleased to share with you Kansas City Kansas Community College's Centennial Path, the College's FY 2020-2023 Strategic Plan. As we approach KCKCC's Centennial in 2023, the college community created this plan to provide direction and position KCKCC for tremendous success in the next 100 years.
With purposeful intention to have the plan crafted by the full college community and external stakeholders, the creation of the strategic plan was launched at the August 2018 Fall Convocation. Faculty, staff and administration worked in small groups to develop important themes used to create KCKCC's new Mission and Vision statements. During the next four months, the steering committee facilitated employee, student and public open forums to gather additional input for these statements and initial development of KCKCC's Strategic Priorities for the next three years. Draft Mission, Vision and Priority Statements were approved by the Kansas City Kansas Community College Board of Trustees in December 2018.
At the 2019 Spring Convocation, these statements were presented to all faculty and staff, and the work begun to identify Goals and Initiatives to be implemented to achieve KCKCC's new Strategic Priorities. Work continued throughout the spring semester, similar to the fall, which accumulated to the development of the KCKCC 2020-2023 Centennial Strategic Plan. The full plan was approved by the KCKCC Board of Trustees June 2018-2019.
KCKCC's Centennial Path recognizes existing challenges and tremendous opportunities that lie ahead for the college and community. These include opportunities such as the rapidly growing Wyandotte County economy as well as challenges such as aging infrastructure and the need to provide additional and enhanced educational and service-related opportunities to underrepresented populations and Leavenworth stakeholders.
This Centennial Path emphasizes Kansas City Kansas Community College's commitment to engage students in high-impact experiential learning opportunities and to strive for excellence in all we pursue. KCKCC is dedicated to our new Mission to "Inspire individuals and enrich our community one student at a time" and Vision to "Be a national leader in academic excellence and partner of choice in the communities we serve." Using these statements as our institutional internal compass, KCKCC is committed to achieving excellence in our four Strategic Priorities: Student Success, Quality Programs and Services, Employee Engagement and Community Engagement.
Thank you to the many individuals and groups who dedicated themselves to the creation of KCKCC's 2020-2023 Strategic Plan. The direction provided in this plan will be critical as we forge our way to the end of the College's first Centennial and as we blaze a trail into the next 100 years!