"Lost and Found"
September 11 - October 27
Opening Reception: September 26 from 4:30 p.m. - 7 p.m.
KCKCC Art Gallery Hosts Lost and Found: Exploring the Loss of Culture Through Migration and Finding Balance Through Self Discovery Exhibition
The Kansas City Kansas Community College Art Gallery is proud to be hosting The Migrating Assembly for Stories and Art's (MASA) second exhibition, "Lost and Found: Exploring the Loss of Culture Through Migration and Finding Balance Through Self Discovery."
An opening reception for the exhibit will be 4:30 to 7 p.m. Sept. 26. There will be live music by Stranded in the City, along with refreshments. The event is supported by the KCKCC Student Organization of Latinx. The exhibit is free and open to the public and runs until Oct. 27.
MASA is for conversations about identity and art as exploration. The KC collective is a migrating assembly of artists whose work comes together for only a moment. "Lost and Found," brings together stories of grief and self-actualization told through varied visual mediums. The exhibition acts as a space to explore what it means to lose a sense of identity while also finding means of connection and self-expression through art. Navigating respective memories, 16 artists explore their own personal experiences of losing parts of themselves along the journey to Kansas City and the growth thereafter. The role of the art is to navigate and recognize that individuals can be different from social norms. The show celebrates these differences and acknowledges the similarities within the group.
Featured artists include Marisa Adame Grady, Emily Alvarez, Rodrigo Alvarez, Victor Antillanca, Faviola Calymayor, Dani Coronado, Erick Felix, Daniel Garcia-Roman, Edwing Mendez, Nicolas Ortega, Paulina Otero, Socorro Reyes Ramirez, Baldemar Rivas, Isaac Tapia, Cesar Velez and Emiliano Zapata.
"The Art of The Athlete" by Anthony "AO" Oropeza
July 24 - August 30
Closing Reception: August 29 from 4:30 - 7
KCKCC Art Gallery to Host Solo Exhibition "The Art of The Athlete"
The Kansas City Kansas Community College Art Gallery will soon exhibit the artwork of KCKCC alum one of Kansas City's premier sports artists Anthony "AO" Oropeza.
The "Art of the Athlete" exhibition, which runs until Aug. 30, will feature a variety of Oropeza's sports paintings including some of Kansas City's favorite athletes such as Patrick Mahomes. A closing reception will be from 4:30 to 7 p.m. Aug. 29 in the KCKCC Art Gallery. In addition to light refreshments, there will also be live music by KCKCC student trio - Josiah Assefa, Sam Shoemaker and Michael Suriano. This event is free and open to the public.
Oropeza received two associate degrees from KCKCC in 1991 – an associate of arts in general studies with an emphasis in business and an associate of art in fine art. He is the owner of AOART5 Studios in Kansas City and in the last 10 years, has accumulated clients such as the Kansas City Chiefs, Hunt Family Foundation and the Kansas City Monarchs. AO's gritty, blue-collar background and upbringing are reflected in his unrestricted, but controlled painting techniques. He is a designer who enjoys creating and producing sports art, abstract art/fine art, comic books, graphic and web design. He uses bold lines, an abstract mix of colors and various shapes and forms to enhance the complimentary background space. His media includes acrylic paint, oil paint, latex paint, stencils, spray paint, canvas, wood and Masonite.

May 24 - July 12

THIS SKIN I'M IN is a collection of images and narratives by artists in and engaged with the LGBTQIA+ community- a series of visual autobiographies. Photographers were invited to submit work that expressed their own personal experiences of queerness using photography and narrative as a vehicle for self-expression.
'"Holler If You See Me: Black Appalachia" Exhibit'
Ran through March 31, 2023
The exhibition features 10 Black Appalachian artists' efforts for inclusion, equality and negotiating self amidst systematic disenfranchisement, violence and loss. The artists' quests for self-determination are aided in art as they reassert their presence, express dissent and acquire empowerment. The exhibit features artists Jonathan Adams, Akintayo Akintobi, Lynn Bachman, Tramel Fain, Pam Faw, Dexter Greenlee, Anissa Lewis, Mary Martin and Travis Prince.
The curators are BIPOC (Black, Indigenous and People of Color) Karlota Contreras-Koterbay, director of Slocumb Galleries and Midsouth Sculpture Alliance board member and LGBTQ Lyn Govette, curatorial fellow. Slocumb Galleries explore the nuance identities of the Black bodies from various Appalachian states through the lens of 'Black Diaspora,' displacement and trauma.
'Adapted/Adopted: Journey of Asianx Women Artists'
Oct. 17 - Dec 9
The exhibition features six Asian American women artists who employ art as an adaptation strategy in their plight to reinvestigate their hybrid identities as they seek belonging and visibility in their new home country in the U.S. Some of the artists also address the adoption phenomenon of children of Asian descent being transnationally relocated and raised in American families, visualizing memories and opportunities as vital issues. The exhibit features artists Cindy Leung, Eun-Kyung Suh, Haley Takahashi, Hong Zhang, Nichole Schiller, and Nina Ghanbarzadeh.
The exhibit and celebration is in partnership with the American Association of University Women Student Chapter, Center for Equity, Inclusion, and Multicultural Engagement, Fringe Benefits of Education, and the India Association of Kansas City. 
March 31
6 p.m.
Exhibit Viewing with Kalpana Lalgudi & her students from piKalsso Art
6:30 p.m.
Welcome by KCKCC President Dr. Mosier with and introduction by co-curator Dr. Hira Nair
7 p.m.
Performance by Nartan Acadmey of Dance
7:45 p.m.
Closing by Co-curator Shai Perry
"Cultura" exhibition celebrates Hispanic artists in the Kansas City region. Closing reception held on Oct. 14 with attendance of 16. The youngest artist in the showcase was 13-year-old Ysabel Santacruz. She was excited for this opportunity to showcase her work in a professional setting along with a renowned artist in the field. Santacruz enjoyed sharing her passion for a carrier in art with President Mosier.

"Expressions" 2021 traveling exhibition organized by The Whole Person is now on display in the KCKCC Art Gallery until Dec. 2. The exhibit is closed the week of Thanksgiving, Nov. 22-28, 2021. 
What is Expressions?
2021 will mark the 11th Annual Expressions Art Exhibition, showcasing artists with disabilities, celebrating their abilities and unique talents.  Expressions strives to promote artists with disabilities by featuring their work in professionally organized art exhibitions and offering innovative educational and networking workshops that connect them to the broad regional creative community.
Learn more about Expressions Art Exhibit.
The Art Gallery is located in Lower Jewell RM 2346 and is open Mon. through Thu. 11 a.m. to 4 p.m. or by appointment. 
Contact Galley Coordinator Shai Perry for more information sperry@kckcc.edu.
"Cultura" Celebrating Hispanic Heritage Month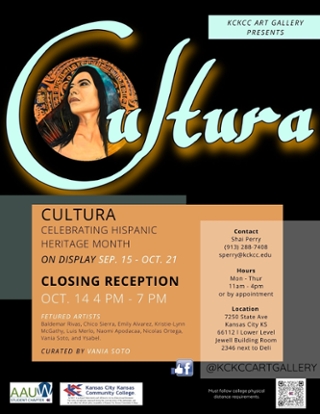 "Cultura" Celebrating Hispanic Heritage Month
On display until Oct. 21, 2021
Closing Reception - Oct. 14, 2021
Curated by VANIA SOTO
Featured Artists:
Baldemar Rivas
Chico Sierra
Emily Alvarez
Kristie-Lynn McGathy
Luis Merlo
Naomi Apodacaa
Nicolas Ortega
Vania Soto
Ysabel Santacruz