March 31
6 p.m.
Exhibit Viewing with Kalpana Lalgudi & her students from piKalsso Art
6:30 p.m.
Welcome by KCKCC President Dr. Mosier with and introduction by co-curator Dr. Hira Nair
7 p.m.
Performance by Nartan Acadmey of Dance
7:45 p.m.
Closing by Co-curator Shai Perry
"Cultura" exhibition celebrates Hispanic artists in the Kansas City region. Closing reception held on Oct. 14 with attendance of 16. The youngest artist in the showcase was 13-year-old Ysabel Santacruz. She was excited for this opportunity to showcase her work in a professional setting along with a renowned artist in the field. Santacruz enjoyed sharing her passion for a carrier in art with President Mosier.

"Expressions" 2021 traveling exhibition organized by The Whole Person is now on display in the KCKCC Art Gallery until Dec. 2. The exhibit is closed the week of Thanksgiving, Nov. 22-28, 2021. 
What is Expressions?
2021 will mark the 11th Annual Expressions Art Exhibition, showcasing artists with disabilities, celebrating their abilities and unique talents.  Expressions strives to promote artists with disabilities by featuring their work in professionally organized art exhibitions and offering innovative educational and networking workshops that connect them to the broad regional creative community.
Learn more about Expressions Art Exhibit.
The Art Gallery is located in Lower Jewell RM 2346 and is open Mon. through Thu. 11 a.m. to 4 p.m. or by appointment. 
Contact Galley Coordinator Shai Perry for more information sperry@kckcc.edu.
"Cultura" Celebrating Hispanic Heritage Month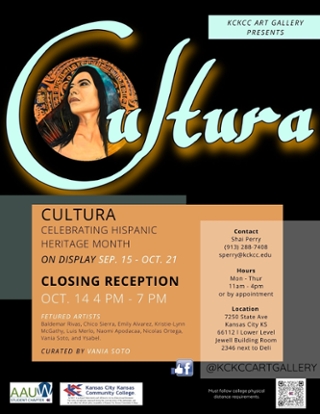 "Cultura" Celebrating Hispanic Heritage Month
On display until Oct. 21, 2021
Closing Reception - Oct. 14, 2021
Curated by VANIA SOTO
Featured Artists:
Baldemar Rivas
Chico Sierra
Emily Alvarez
Kristie-Lynn McGathy
Luis Merlo
Naomi Apodacaa
Nicolas Ortega
Vania Soto
Ysabel Santacruz