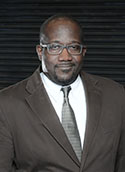 John Stafford II is the Associate Professor of Music, Director of Choral Activities, and Co-Coordinator of the Music Department at Kansas City Kansas Community College (KCKCC). Professor Stafford was a 2015 recipient of the John & Suanne Roueche Excellence Award for outstanding teaching and leadership at the community college level. Also, Stafford was the recipient of the Henry Louis Award for Teaching Excellence at KCKCC in 2020 (our Faculty of the Year award). He has also received two other teaching awards from KCKCC for Recruitment and Teaching Excellence.
Previously, he was appointed at Millikin University, Eastern Illinois University, and Danville Area Community College teaching composition, theory, orchestration, history, and vocal jazz. He holds degrees from Millikin University (music business), Bowling Green State University (composition), and has done additional doctoral studies at the University of Illinois, Urbana-Champaign (choral conducting).
Among his current professional activities, Professor Stafford serves as the Jazz Chair of the Kansas Choral Directors Association and Commercial/Contemporary Music Chair of the Southwestern Division of the American Choral Directors Association. He is also a member of the National Association for Music Educators, Jazz Educators Network, and American Choral Directors Association. Since 2014, Professor Stafford has served as the Choral Director of Community Christian Church (architecture by Frank Lloyd Wright) in Kansas City, MO. He also serves as the Artistic Director of the m-pact Vocal Festival at KCKCC. During the 2020-21 academic year, Professor Stafford has been selected to give virtual presentations, both regionally and nationally, for the Jazz Education Network National Conference, the National Association of Music Education Northwest Divisional Professional Development Conference, the Kansas Music Education Association In-Service Workshop, Elmhurst University (in Chicago, IL), and the University of Texas, Austin. Stafford has also been selected to be a virtual adjudicator this year for the Lionel Hampton Jazz Festival at the University of Idaho, the Frank Demiero Jazz Festival (out of Washington State), and the Jazz/Madrigal Festival at Northern Arizona University.