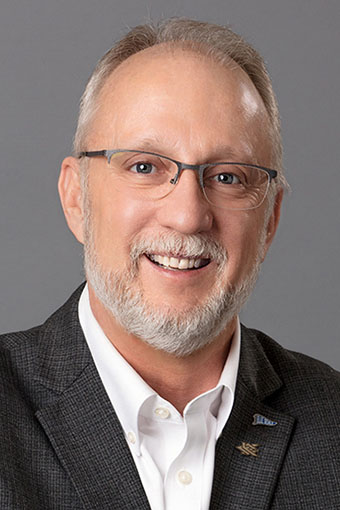 Dr. Greg Mosier is a tested and experienced leader, having served higher education in the community college and university settings for almost 30 years. Experienced working in complex state and university led systems and the independent community college setting, Dr. Mosier brings breadth and depth of experiences to the institutions and communities he serves. Previously serving as vice president of academic affairs at Oklahoma State University Institute of Technology, Mosier returned to follow his passion of serving the comprehensive community college mission in 2015 as vice president of academic affairs and executive vice president, academic affairs at Rochester Community and Technical College (RCTC). In 2018, he became president of Kansas City Kansas Community College (KCKCC).
 Having the privilege to serve RCTC, a nationally-recognized institution for innovative programs such as Bridges to Healthcare (a semifinalist in the Harvard University Innovations in American Government Award) and its joint programs with the Mayo Clinic School of Health Sciences, Mosier has utilized his experience with credit and noncredit education, community engagement, and economic development to pursue new program opportunities and expanded public-private partnerships for the college.
 An innovative and visionary servant leader, Mosier leads by example and brings an entrepreneurial spirit in his approach. His efforts have resulted in the development of multiple new programs and pioneering state-of-the-art delivery methodologies for institutions and students in multiple states. Employing an enterprise approach, Mosier has created multi-institution delivered programs that meet the needs of students and business/industry across large geographic regions.
 Dedicated to providing students high-quality educational opportunities and facilities that prepare them for successful careers, transfer to four-year institutions, and lifelong learning, during his career he has worked successfully at the institution, state, national, and international levels obtaining more than $38 million dollars in grant funding and corporate sponsorships. Experienced in economic and workforce development, Mosier was part of a gubernatorial assigned business attraction team responsible for bringing an IBM Information Technology Global Delivery Center to Columbia, MO; adding 600 more than new jobs to the community. At RCTC, he is currently working with several local, state, and nationally-based corporate entities to provide financial and programmatic backing to create and sustain new program offerings aligned with the economic growth spurred by Rochester's Destination Medical Center initiative.
 With his passion for the community college mission and providing open-door access to not only educational opportunities, but academic success, Dr. Mosier is working with the College's dedicated and talented faculty and staff, and external stakeholders, to build teams that remove barriers and increase the equity of educational opportunities and support mechanisms to close the achievement gap in underserved and at risk student populations.
 Beyond his educational experiences, Mosier has worked in the private sector, working for organizations such as NASA, Rockwell International, Dyn-Corp, Technologies International, EduSystems Inc., and the Consortium for International Development. Work for these groups included Department of Defense contract work in the United States, and community college development, establishment, and instructor training for World Bank projects and the Ministries of Education in Yemen, Bahrain, and Saudi Arabia.